Zar Ritual Dance and Music for Healing from Egypt
PLEASE NOTE: The registration link is to sign up for the workshop, not buy a CD. The shipping charge that appears on the invoice WILL NOT BE CHARGED.
A 20 minute movie followed by:
Stretching for the neck, head and upper body.

Discussion of the specific movements used by women to go into trance.

Techniques for breathing, etc.

Free dancing to the music.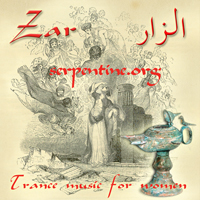 The right music is essential for a trance experience. We will be using authentic Egyptian Zar music recorded in Egypt by the country's well-known Zar group, Awlad Abou al-Gheit.
For more about the Zar click here
Please wear comfortable loose clothing
This workshop was developed initially for
The Women, Arts, & Healing Conference
hosted by Montgomery College in March 2006 .
Sorry, no refunds
Reviews
"I had a great time this morning. That was definitely one of the most comprehensive workshops I've been to. After we left, we were talking about how great it was to get video, lecture and demonstration all in the same class. I'm really looking forward to a nice stress-reducing trance when I get home tonight!" Miasia