Titles Currently Available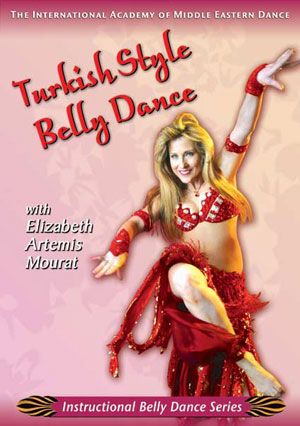 ARTEMIS' NEW INSTRUCTIONAL
TURKISH DVD from IAMED
IS NOW AVAILABLE FOR SALE!!
CALL US [1 800 835-7537] TO ORDER AN AUTOGRAPHED COPY
DIRECTLY FROM ARTEMIS.
UPCOMING PROJECT:
TOTALLY TURKISH INSTRUCTIONAL DVD SERIES
Artemis will be making a series of instructional DVDs with Serpentine Communications in 2007. Some of the topics will be :
The history of the Turkish Roma including many illustrations from her collection of antique images and footage of Roma taken from her field research.

A comparison between Turkish Oriental dance and Egyptian Oriental dance

A comparison between Turkish Oriental dance and Turkish Romany dance.

What is Turkish Oriental dance and what is the lineage of this art form?

What is Turkish Romany dance?

Romany dance -separating fact from fiction

What you can do to help fight the racism that plagues the Roma worldwide

A breakdown of Turkish rhythms

Finger Cymbal patterns to Turkish rhythms

Turkish Oriental dance steps, turns, isolations of the torso, hips, stomach and pelvis

Turkish Romany dance steps, turns, isolations of the hips, stomach and pelvis

Turkish Romany gestures

Costuming information

Turkish Oriental floor work

Performance footage of Artemis


and more!
Artemis Dances!
Now includes an entire 15 minute American cabaret style performance with zills to Eddie Kochek's music. It also features Artemis performing her interpretive ancient dance based on her research, her Turkish style oriental dance, authentic Turkish Gypsy (Rom) dance plus dances adapted for the stage. Video also includes a glimpse of footage of Roma taken in Turkey.
DVD Only. $29.95 To order please send a check to the order of "Artemis Mourat" care of Serpentine Video. You must also add shipping charges of $5.00 if you are within the USA. International customers need to email Artemis for shipping charges.
LIFTING THE VEIL OF TIME
features many of Washington DC's finest dancers, includes: ancient sacred dance, Persian dance, veil dance, Alexandrian dance, Saudi dance, Turkish spoon dance, a zill percussion solo, Saidi cane dance, sword dance, Turkish Rom dance, Egyptian and Turkish style oriental dance and a drum solo featuring the entire cast. Click here for a synopsis of this program.

DVD NTSC: $27.95 CALL TO ORDER 1 800 835-7537
FREE SHIPPING within the USA
BELLY DANCE MAGIC
IN ENGLISH
Originally filmed in French for the European market, this instructional video features Camellia and Yasmin in a rigorous work out geared for intermediates. A large production budget, 5 cameras, direction by Mr. Farris, a 10 minute bonus film of the history of Egyptian dance, performance sequences by each dancer and a clip of Samia Gamal in "Afreeta Hanim" round out the 70 minute program.


CALL TO ORDER .

ALI BABA and the 40 THIEVES
This video is one of the only Samia Gamal color films available in the US, and it features three dance sequences. Gamal was hand-picked by the producers to star with Fernandel, one of France's most popular actors from the 1940s through the 1960s.

Ali Baba (Fernandel), a servant, accidentally discovers the magic cave where Abdul and his band of 40 thieves hide their stolen treasure. He takes enough money to buy a slave girl (Samia Gamal) from his master, Cassim, to be his wife. But Cassim and Abdul have plans for Ali on his wedding night…

Shot entirely on location in Morocco using a cast of thousands, this charming film was one of Fernandel's most popular. It was one of the biggest productions of the era, rivaling "Cleopatra" in its scale and scope. Great pains were taken to accurately recreate the epoch of "A Thousand and One Nights" and Moroccan customs are reflected in rich detail, down to the costumes and ceremonies.

French dialogue with English subtitles. VHS. NTSC only. $27.95 FREE USA shipping

A NIGHT AT THE CASABLANCA
This video features oriental and ethnic dances by such well-known artists as Adena, Artemis, Eva Cernik, Habiba, Sheherazade and Yasmin, in addition to Radha Data performing Indian Rom dance and Sara, a fine flamenco artist. This video includes ghawazee, Turkish Oriental, Egyptian Oriental, sword, cane, candelabra and more.
DVD or VHS NTSC: $27.95 FREE USA shipping
---
VIDEOS IN THE WORKS:
TOTALLY TURKISH INSTRUCTIONAL SERIES
Artemis has planned a comprehensive series to pass down her extensive knowledge about Turkish and Roma dances.