Turkish Dance

,

American Cabaret and Vintage Orientale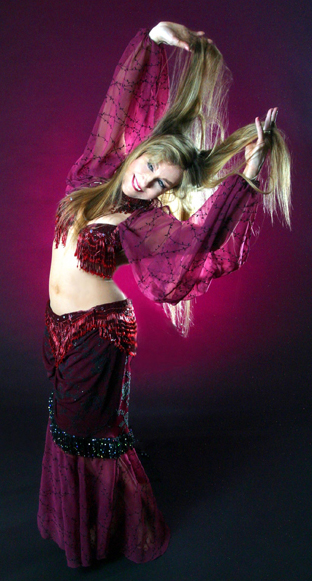 INTRODUCTION

There is a great deal of misinformation circulating about Turkish Oriental dance. Unfortunately there are people writing about it who have not seen it. Some people are teaching it or claiming to teach it who are not proficient. I am writing a book on the subject and I am making some instructional DVDs to follow the one that I made for IAMED. These projects are not yet done but I feel compelled to tell people about this dance form now while there is such a strong interest. Information and misinformation can gain credence when it is in print. The more that it is repeated, the more it is believed. So, without giving away my script and manuscript I will try to cover these bases in an abbreviated form. I have liberally borrowed excerpts from my manuscript "Turkish Oriental Dance in America - Past, Present and Future" and I want to thank Anahid Sofian and Morocco who granted me interviews for that manuscript. I also used some information from my article "A Comparison and Contrast Between Turkish and Egyptian Oriental dance." I want to thank Tayyar Akdeniz who has helped me with my research in innumerable ways, and I have borrowed some information from the manuscript that he and I are writing on Turkish dance. If you want to learn more about this dance, I heartily suggest that you study with Eva Cernik, Dalia Carella and Tayyar Akdeniz who are all on the workshop circuit in the United States and throughout the world. I also suggest that you attend the Folk Tours events both here, in Mexico and in Turkey where Turkish Oriental and Turkish Rromany dance are heavily represented along with Egyptian oriental dance and folk dance. I want to encourage you to support the Rromany (Gypsy) * cause which you can learn about from Voice of Roma in California. They are the backbone and great harbingers of this dance.
THE ORIGINS OF TURKISH ORIENTAL DANCE
This wonderful dance, whose parentage boasts of the Rroma (Gypsies) of Turkey, the harems of the sultans and the turn of the century theaters of Istanbul continues to thrive in Turkey and now in Europe and the United States. It was once described as the dance that could "melt a stone." The multifaceted arts from Turkey were influenced by the ancient Greeks, the Romans and the Persians and later in history by the Selçuks, the Mongols, the Central Asians and the Egyptians. The Ottoman Empire encompassed the Balkans, Hungary, Greece, Anatolia, Egypt, southern Europe, Syria, Palestine, Algeria and Cyprus and there were cultural exchanges in all the performing arts.
By far, the most important influence on the music and dance that was to eventually give birth the Oriental dance, came from the Rroma (Gypsies) people of Turkey, the Balkans, Greece and Egypt. The "cengis" (dancing girls) and the "koceks" (dancing boys) were the public entertainers. They were never Turks because Turkish people felt that it is undignified to be a dancer (with he exception of folk dancers). The koceks and cengis were Rroma, Greeks, Albanians, Armenians, Circassians and Jews. The most proficient and famous dancers were the Turkish Rroma, who are primarily Rrom and only secondarily Turkish in culture. There was a great deal of cross pollinating between Egyptian and the Turkish performers due to the Turkish occupation of Egypt from the 1517 to the early 1900s. The music and dance arts of Turkey were also enriched by the dances from within the harems which were populated by women from the Middle Eastern, African, European, Central Asian and even English speaking cultures. Once in the harem, the women who exhibited dancing abilities were further schooled in the terpsichorean arts and these became the court dances of the Ottoman Empire. The Sultan's harems were abolished in Turkey in the early 20th century. In need of employment, some of these specially trained dancers, worked as public performers. Their dances influenced the already changing art form which was being influenced by the Europeanized theaters of the early 20th century. When you look at the lineage of the , the Rromany connection has never been broken since they first came into the Ottoman Empire.
If you will forgive the analogy, let's look at the Turkish Oriental dance as a family tree. The mother dance is and has always been the Rroma of Turkey and also from Egypt. The father dance is the family of court dances but he was mostly kept behind closed doors. There was, however, an influential maternal aunt who was the dances of the Europeanized theaters of Istanbul. And they existed because of the thrust towards the modernization of Turkey, beginning at the turn of the century. The auntie is still exerting an asserting an influence, as are the Oriental dancers of Egypt who have long since lost their Rromany connection. But the mother never left the family and as is often true in life, she remains the backbone of the family.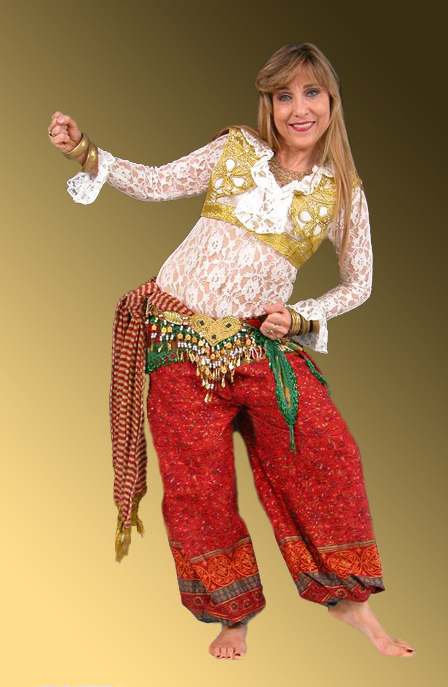 A BRIEF REVIEW OF THE FEATURES OF TURKISH ORIENTAL DANCE
First we must start with the music. A typical Turkish Oriental dance show will be comprised of selections from several different styles of music. The expression "Oyun Havalari" refers to dance music (usually Oriental dance music) and this is an "umbrella" expression for the styles of music that can be found within an Oriental dance show. They are: Arabesque music and Roman Havasi music.
Arabesque music is a fusion form that combines Classical Turkish music with Arabic music. Some of these songs have been used by Oriental dancers for many decades. "Roman Havasi," literally translates to"Gyspy" Music. This is composed by the world famous Rromany musicians of Turkey. It can include various 2/4, 4/4 and 9/8 time signatures. The Turkish çiftetelli is often used and this version is in a medium to fairly fast tempo. Note that ciftetelli also exists in different styles of Turkish music, not just Oriental.
The 9/8 time signature differentiates the most profound separation between Arabic Oriental music and the Turkish. Note that the 9/8 time signature is present in Turkey in the Classical music, the folk music and the Oriental music. For Oriental dancers, this family of asymmetrical rhythms ranges from very slow to very fast. The preferred version in Turkey is a 9/8 styling of the rhythm where the accents are on the 1, 3, 5, 7, 8 (the 9th beat is present but silent). We can credit Eva Cernik and the American drummer Brad Sidqi Sidwell for bringing the Rromany 9/8 to American dancers. Up until very recently, there was another version of the 9/8 that was and is most familiar to American dancers who perform in the Turkish style or the so called, "American Cabaret" style. This verson, we now call the "cabaret kar_ilama" and it was so named by Anahid Sofian, a famous dancer in New York. In this version of the 9/8 rhythm, the accented beats are the 1, 3, 5, 7, 8, 9. This version is rarely used in Turkey for dancers now but was almost exclusively played by the musicians in the United States on all the "belly dance" recordings and in all the clubs in America. Eva and I and also Brad and I had many conversations about the "Cabaret karsilama" versus what we started calling the "Rromany 9/8." Tragically, the 9/8 time signature is not quite as popular as it once was in Turkey but it is still has a strong presence. And if you are really lucky, you will see a dancers using the slow 9/8.
In a Turkish Oriental dance show, the musicians include many of the musical sections that exist in an Egyptian Oriental show. There is a fast entrance and a fast finale and there are taqsims (improvisations that have no rhythm) and drum solos imbedded within the show. There are also some of the same 2/4 and 4/4 rhythms such as masmudi saghir (beledi), ayub and maqsum.
The instrumentation for Oriental dancers often includes the darbuka, tambourine (played vertically), ud (short necked lute), ney (flute), kanun, clarinet, saz (long necked lute), zills (finger cymbals), wooden spoons, zurna, davul, cimbalom, baglama, accordion and violin. More recently, the electric organ and synthesizers are used.
Turkish Oriental dance is similar but less refined than its Egyptian sister dance form. It is less elegant but not less articulate. What it lacks in composure and predictability, it makes up for with spontaneity and passion. Both styles are expressive, playful and sometimes introspective. The Turkish dance is assertive, passionate and sometimes even indifferent. It is far more energetic and sometimes has a bouncing or hopping aspect to it. The Turkish dancers employ shoulder and hip shimmies, backbends, shoulder rolls, full body undulations and isolations of the head, ribs and hips (slides, lifts, drops, half circles, full circles and "figure eights"). There are abdominal undulations (rolls), flutters and pops. The dancers use knee lifts, kicks and even high kicks. They do a lot of spins. There are level changes. Turkish dancers still do veil work to a slow or medium tempo song. The costuming is revealing, well beaded and accentuates the enthusiastic hip articulation. Many of the dancers wear high heeled shoes and this too affects the hip articulation. Up until a few years ago, all Turkish dancers played finger cymbals (zills). Floor work is still quite popular in Turkey and it is acrobatic. The drum solos are strong and elaborate. Traditionally, the shows have been improvised and done to live music. There is a feature that is unique to Turkish dance and this is the use of a family of gestures that are from the Rromany roots. Up until very recently, The Roman Havasi music and accompanying Rromany danced sections were an important and integral part of the Oriental show. The most famous of these were and are the Rromany 9/8s.
Unfortunately now, many dancers in Turkey are imitating the Egyptian styling and they prefer the Egyptian Oriental dance music and also Arabic Pop music. This is affecting the dance in unfortunate ways. Dance is driven by music and the Arabic music has a different feeling to it, a different "energy." When the Turkish dancers superimpose their dance onto the Arabic music, it loses the Turkish spirit. The popularity of the Egyptian stying is also resulting in a lack of finger cymbal playing so some dancers are losing touch with their musicianship. Unfortunately many Non-Turkish dancers now who are curious about Turkish style are watching internet clips of this newer form of Turkish dance and they think that this is what Turkish style has looked like all along. This is, however, a very new adaptation employed by dancers who originally studied with more traditional teachers and did the older style. They recently have veered off in a new direction. Although they are very good dancers, I fear that the Turkish Oriental dance is losing its original identity.
In the last two decades in Turkey, the best Oriental dancers have been NesrinTopkapi, Tulay Karaca, Sema Yildez and Birgul Berai (Nesrin and Birgul will be teaching at this year's AlaTurka Music and Dance Festival - see www.folktours.com). Turkey is unforgiving of dancers who will inevitably grow old. It is not similar to the situation in Egypt where the greatest Oriental dancers continue to perform in their 50s, 60s and even later. The very popular newer Turkish dancers of today are Asena and Didem (who is Rrom), both of whom studied with Sema Yildiz but they are now fusing Egyptian styling into their dance. Many other popular new dancers are doing the same thing. There are also many Russian dancers in Turkey now. They are, for the most part, not well schooled on Oriental dance, let along the Turkish genre. Most of whom are very pretty but not good dancers. The presence of so many non Turkish people may explain why the complicated asymmetrical 9/8 is less common than it once was. Despite this drift in styling, at the very popular televised "Oryantal Star" dance contest, the winner of the first competition was Reyhan, a woman who danced in the traditional and truly Turkish Rromany style. So, the judges preferred the authentic dance and this is a positive sign.
Anahid Sofian, is a well known Armenian woman who first learned Oriental dance in the early1960s in New York (see next section). I asked her about the future of Turkish Oriental dance in the wake of the overwhelming popularity of Egyptian style. She sees a resurgence of interest now after a period in the 1980s when it nearly disappeared in New York. "There was a break in the lineage, so I was alarmed." She said: "At the present time some dancers are getting tired of the Egyptian style because it has been out there for so long. They want to do something different and they want to see something different. When the students come and experience the Turkish, they connect with it and they can see its appeal, the power and beauty in it and what is wonderful about it. They often say they are glad to discover this, that it is closer to their heart, that they feel they are 'home.' There is a future for the Turkish style. It is back."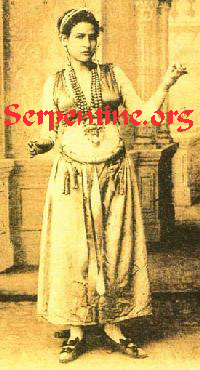 VINTAGE ORIENTALE DANCE ( AMERICAN CABARET) WHERE IT CAME FROM AND WHAT TO CALL IT

Oriental dance came to the United States through the World's Fairs and the Expositions of the late 19th century. For almost a century, this dance was not replicated with convincing authenticity in America. There were faux forms of it performed by "hootchi-cootch" dancers and later vaudevillian artists most of whom had never seen the real art form. But by the 1950s and 1960s, there were numerous ethnic nightclubs that were owned and operated by people from the Middle East in large American cities like Chicago and New York. They hired and in some cases brought musicians and dancers from the their homelands to perform in these establishments. The best documented history of this era of the dance in America is from the New York dance scene. This was the most powerful precursor to the Oriental dance movement in America, so I will focus on that. The majority of the dancers in the Middle Eastern nightclubs were first generation immigrants: Turks, Lebanese, Egyptians, Syrians, Armenians, Greeks, Assyrians, Iranians, Moroccans, Algerians and Iraqis. Then, such dance icons as Anahid Sofian, Morocco, and Sabah Nissan and many others learned from them. They were the second generation, only once removed from the source. They performed in the United States in the 1960s and 1970s in the famous Eighth Avenue club district of New York City. Their generation was well versed in many Middle Eastern dance styles NOT just the Turkish style. Those dancers had to be proficient in different dance styles in order to appeal to the diverse ethnic mix who frequented the nightclubs and restaurants. The patrons were right "off the boat" and the clubs were the one place where they could go and feel like they were in their home again, even for a few hours. The combination of different dance styles within the same show and even sometimes within the same song, was the beginning of the dance form that some people call the "American Cabaret" style of dance (see next paragraph). The second generation of dancers, taught and inspired my generation (the third) who learned and performed these dances from the 1970s up to the present era. The body of knowledge pertaining to this art form was unsophisticated in America at the time because we were not directly from the Middle East and we were, after all, the third generation. In the second and third generation of dance, we did not know about the differences in style. We simply did what we were taught and mixed the genres as the clubs, musicians and the audiences requested. This eclectic art form became its own genre and it has existed for almost half a century. It is sometimes mistakenly referred to as a Turkish genre but it is not. There were Pan Arabic and Turkish roots to this art forms as well.
This art form is the dance that Ibrahim Farrah called; "The Great American Belly dance." Most of us did not find this expression flattering. It is the dance form that some people now call "American Cabaret,"or even worse in its condensed form; "AmCab." In the fast food culture of America today, many students seem to be looking for shortcuts. This expression is a perfect example of this. Some students want to perform before they are ready. Rather than going deeper into the dance, they gloss over the important details. Rather than learning the movements and the idioms fully, they insist on layering multiple dance movements to the point where the eye of the audience is confused. Some performers complicate their dance to the point where it no longer resembles the authentic styles that they think they are representing. In some cases, it bears scant resemblance to any of the dances that exist in the Middle East. I am a big fan of the evolution of dance theory, so I do not say that the newer styles are not good and legitimate forms of dance. I just want to encourage people to see that this dance form is more complex than what one can learn in 6 months. I urge people to respect the roots and go to the sources first. Then they can use solid technique as their springboard for creativity.
The name, "American Cabaret" is not accurately descriptive nor is it esthetically appealing. It is true that this refers to the version of Oriental dance that was performed by Americans when they first learned of this genre in the 1960s but this is not American dance. It is a fusion art form that was entirely comprised of Middle Eastern dances. It is true that it was performed in cabarets but we also performed in restaurants and in people's homes. The expression, "American Cabaret" sounds like the Las Vegas style of dance. We have always tried to make a distinction between Oriental dancers and show girls, between ethnic dance and exotic dance and this expression does not help to diffuse the confusion. I prefer to call it "Vintage Orientale Dance" because this is what it is. It is the older style of Oriental dance as it was performed in the United States beginning with the 1960s and it is now a rare but valuable style from the Oriental dance world of America. It is a legitimate but endangered art form and one reason why it is disappearing is because people do not understand what it is so they do not value it. They believe the misinformation that is being circulated about it. So, let's begin to refer to it accurately by giving it a descriptive and artistic name. The expression, "American Cabaret" dismisses its artistic and ethnic heritage. Lastly, the abbreviated expression "Am Cab" sounds like a taxi company. The art of using good language is in the details. Since when did we have to write "LOL" so that people know that we are trying to be funny? What happened to the art of crafting our words so that we are writing with unmistakable wit?

In the same way that we must understand the historic and ethnic lineage of the dance from other countries, we must also understand the lineage of that same dance as it has survived in our country. We cannot understand the lineage fully without a clear view of the dance scene in New York City beginning in the 1950s.
The best known dancers from that first generation of the 1950s and 1960s were: Nejla Ates, Saliha Tekneci,Saroya Melik. Jamila Bilgen, Fatoush, Minee Coskun, Cihan Isik, Ozel Turkbas, Semra who were all Turkish or of Turkish descent and Najma (a Pakistani Rromany woman) and Beyba (a Moroccan woman). Morocco says that Samra brought karsilama to the New York club scene but it most certainly existed in Turkey long before that. The second generation of dancers (who learned from the first) are Morocco (a European Rromany woman), Sabah Nissan (from Chicago), Serena Wilson, Jamela Omar, Nakhla, Saida, Ibrahim Farrah and also Yildiz and Pandora (both of whom were my teachers early teachers in the early 1970s). There was a parallel dance movement taking place on the West coast spearheaded by Jamila Salimpour and others. That too is another wonderful part of the Vintage Orientale lineage.
Once the few but determined American dancers were established in the New York clubs in the 1960s and 1970s, they wanted to learn more. The American dancers were crossing the pond. They mostly visited Syria, Lebanon, Morocco, Egypt and other Arabic countries to learn and dance. It is extremely important to note that Egypt was only one of the places where they went. These Americans from the second generation brought back what they had learned. What emerged from this, in East coast America, were two types of dance: Turkish and Arabic. Nobody did what people call "modern Egyptian style" but rather, it was referred to as "Arabic style" back then.
The "Modern Egyptian" dance began to appear in the very late 1960s and early 1970s. Arabesque Magazine and Habibi Magazine were publishing academic papers about other dance forms and differences in style. More dancers and dance ethnologists started going to Egypt. Ibrahim (Bobby) Farrah was a highly respected and gifted choreographer and performer who was heavily influenced by Nadia Gamal in Lebanon. Nadia Gamal's parents were European ballroom dancers in Cairo and she had an extensive background in jazz and ballet. She became a famous oriental dancer in Lebanon. She fused influences from ballet and ballroom dance with other theatrical elements. Videos from Egypt and Lebanon began surfacing in the United States in the 1980s. Some dancers in Cairo had their own choreographers and many dancers in the United States studied and adopted this material. This was all influencing the evolution of oriental dance in America. This was quite different from the dances of the cigarette smoking, zill playing, cane wielding Egyptian women from Mohammed Ali street in Cairo. A new form was emerging in America and Egyptian elements (or what people thought were Egyptian elements) were rapidly being incorporated into the newly named "Egyptian style of Oriental dance." The so called "Modern Egyptian style" of the 1980s is different from what many of the newer dancers are doing today. The Turkish style and the Vintage Orientale was slipping into obscurity because the New York night clubs were closing one by one so many of the dancers went on the circuit or retired. This new Egyptian style of dance was dominating. Bobby, Yousry Sharif and several other Arabic males were teaching, Morocco had her studio, Serena Wilson had her studio and Anahid had her school (where she still is today).
There is an unavoidable drift in styles of Oriental dance every one or two decades because dance is an ever changing, every evolving art form. So, when people claim to be Egyptian style dancers, the only way to predict how they dance is by knowing where they fit in the continuum. Did they learn in the 70s, the 80s or the 90s and from whom? Did they learn in the United States, in Europe or in Cairo? The ultimate point is that no one style is superior or inferior within the Egyptian Oriental dance lineage. This should be obvious but what is less obvious to some people is that no one style is superior or inferior when comparing Egyptian, Lebanese, Turkish or Vintage Oriental. We desperately need people to preserve the dance styles of each country and from each era within each country. The newer styles and fusion forms (such as American Tribal Style) are wonderful and they have a right to be here. But the older styles become endangered when they are not remembered, respected, documented and when they are no longer taught.
If we go back to the 1950s and 1960s, we see where the Vintage Orientale show came from. The Turkish style was very popular and it dominated the dance scene in New York. The dancers all learned from each other and each dancers infused her own stylistic touches into what she was doing. In addition to this, there were culturally dictated stylistic differences between the Pan Arabic groups, consisting of Egyptian and other North African, Lebanese, Syrian and Jordanian dancers and the group who did Turkish style. The educated eye could tell who was from where. They all danced with the same musicians so they had to be able to perform to the same music. All of the dancers played finger cymbals, regardless of where they were from, because that was the way it was for oriental dancers throughout the Middle East.
Morocco (from NY) remembers there were some political issues that caused some of the Arab dancers to prefer avoiding the Turkish kar_ilama. This was not part of their musical heritage, anyway. The Egyptians were more serious and used more controlled and complex, layered movements. They preferred using maqsum and did not want to do floorwork because it had been illegal in Egypt since 1954. They often danced barefoot. Morocco describes how: "The professional Levantines affected a more "distant" attitude, thought the Egyptians were 'too sexy' and often wore heels that affected their hip work, possibly adversely... The Turks were mostly out there acting like they were having a heck of a good time: bouncier, peppier movements, hitting the beats more obviously, their fast music had fewer rhythmic changes, but their slow çiftetellis were really slow, heavier and sexier than the Arabic dancers' taxims. There was more playfulness, joking interaction with the audience in the fast parts...There were hand gestures in the kar_ilama that were specifically Turkish Rromany. A few Turkish dancers, like Saliha Tekneci, were famous for their attitude. There was a haughtiness, a distance. It was almost challenging, the kind of attitude one sees nowadays in a 'real' Sulukule (Rromany) kar_ilama...Just about everyone at the beginning and end of their kar_ilama sections would gracefully hold their skirt ends to accentuate the hips and foot moves...(and they would)...hold the panels out during the final turns, to control the skirt and make sure it did not swirl out too high or show too much...All the good Turkish dancers were also very good technicians and could easily have co‑opted the "styles" of the other areas. Almost all the Turkish and a lot of the Greek musicians were Rrom. The best dancers, regardless of their country of origin, were the ones who enjoyed working to all types of music...(and they)... integrated the much wider variety of movements from oriental dance's rich movement vocabulary into their dance...The movements are the movements ‑ it is the 'accent' and 'idiomatic expressions' that define what we would like to think of as different 'styles.'"
I asked Anahid Sofian about the appeal of the Turkish style compared to other Middle Eastern dance forms. She said that she appreciated and admired the technique required for good modern Egyptian but she is seeing a "...less individualistic and creative approach to the dance." Whereas, the Turkish style: "...is a high energy dance with more of a range from the softness of the takseems and çiftetellis to the bold and powerful styling of the kar_ilama. There is the freedom to improvise." She described how at the heart of this dance is "structured improvisation." It is not choreographed, nor is it supposed to be, otherwise it would lose its spirit and spontaneity. Anahid describes the ideal dancer as one who "...dances with complete heart and soul, with a total commitment and total involvement, where every movement gets its due and nothing is thrown away." She said that the dancers in the 1960s developed movement phrases but since they learned with live musicians and it could change every night, they had to be flexible. Her eyes lit up as she described how, "The Turkish style is more freewheeling and you get to take chances. It is extremely musical because you have to play finger cymbals. The zills are half the dance in Turkish style and you learned musicianship from this. You had to be a damn good finger cymbal player."

THE RIFT BETWEEN TURKISH ORIENTAL DANCE AND EGYPTIAN ORIENTAL DANCE
The Egyptian style nearly eclipsed the Vintage Orientale and the Turkish Oriental style of dance in America due to its enormous popularity and the rather misinformed opinions of some loyal aficionados of the modern Egyptian style. The Turkish style was particularly targeted. In the last 25 years, I have heard frequent and blatantly ignorant statements such as: "The Turkish style is not REAL Oriental dance. The only real Oriental dance comes from Cairo...I don't do that 'dirty' Turkish dance...Nobody does that style anymore...There are only two styles of Oriental dance - the Egyptian style and everybody else who is wrong." This prejudice was institutionally sanctioned. For example, one major Middle Eastern dance publication in the 1980s actually printed an account of a trip to Turkey written by an American dancer who made the stunning and ignorant statement that: "There aren't any good dancers in Turkey." Starting in the 1980s there was a dearth of Turkish dance in the United States except for in large cities where it was requested by prominent Turkish or Greek populations. They knew we had a right to be here. They remembered the dance from "the old country" and they wanted to see it. Turkish Oriental dance also survived in areas where there were doggedly determined teachers who would not let it die. But the American style of oriental dance began to slip away as the Egyptian style gained more popularity. Many of the new students were only exposed to Egyptian styling, so floor work, veil dancing to an entire song, finger cymbal playing and the high energy of Turkish style were casualties of the trend. The new students were partaking of only one slice of a much larger and legitimate pie. This pie encompasses Turkish style, Vintage Orientale, Lebanese Oriental style, Egyptian Oriental style and now American Tribal style. However, many students thought and still think that the Egyptian slice is the entire pie.
In the 1970s the differences in the styles were not clear to us. As for me, my favorite music was the Turkish and my favorite dances were the ones performed by my teachers to that music. Of course, the music is supposed to determine the dance stying. I clearly gravitated to the Turkish elements that were imbedded within the Vintage Orientale dance. Anahid put it well when she said: "The steps are in the music and the music shapes the dance." The Turkish style appealed to my hyperactive nature. I liked feeling as if I was in flight. I remember how painful it was when Egyptian style dancers told me that the dance I was doing was wrong. I knew that I was accurately reproducing the dances of my teachers. Finally, my friend told me that I was, for the most part, a Turkish style dancer and that the Egyptian style was different. I knew then that I had a choice to make. I could abandon my first love as most of my colleagues were doing or go deeper into it. Converting to Egyptian style would result in more acceptance for me and more opportunities for employment. It would have been the easier road. But I loved that style of dance. It was part of my ethnic heritage, since my family were Greeks from Turkey. Furthermore, it was part of my dance heritage. I was of that third generation and I was carrying on the lineage. Besides, there was another advantage, the Egyptian style dancers struggled with the Greek and Turkish music. The intricate and asymmetrical rhythms, the improvisational necessity and the breakneck speed was too much for them but I thrived on it. I had a decision to make, so I stubbornly learned as much of it as I could and I incorporated more and more Turkish into my dance vocabulary. At first, I could not quite discern just how much of what I was doing was clearly Turkish, how much was Arabic and how much was the combination of both within the same step. I studied the Egyptian style of dance so that I could have a more accurate grasp of the difference (and to maximize my employment opportunities). With time, I began to understand more fully the difference. I was determined to research the history of Oriental dance in Turkey so that I could prove to everyone that we had a right to be here. I went to Turkey many times and I saturated myself with only Turkish music for several years (my poor American husband). It was during this period when I started to specialize in the Turkish style of Oriental dance in a deliberate way. I also learned about Rromany dance and the rich and varied cultures that create it. The flip side of this is, of course, the terrible conditions under which they live.
In the 1980s, there was an unfortunate trend in Turkey that did not help elevate the art form. The clubs started hiring very young women who were not serious dancers but who were quite beautiful. This reinforced the bad reputation that Turkish style dance was receiving in America. Of course, there were and are wonderful performers in Turkey but one had to wade through the mediocre in order to find the skilled representers of the style. The younger women worked for less money but satisfied the club owners' desire for a newer, younger and more modern looking show. They felt that the older, well skilled dancers were less visually appealing. Unfortunately, this trend is not new in many cities throughout the world.
THE FEATURES OF THE VINTAGE ORIENTAL DANCE SHOW IN THE 1960S AND 1970S
Anahid Sofian is an Armenian American who learned from that first generation of dancers in New York and she preserved this form as it had been taught to her. She never stopped performing it and never apologized. She was there then and continues to be active in the dance scene in New York so she can place the history of the events in the larger context of the history of oriental dance in America. She is also extremely adept in the Arabic style of dance as it was done in the Middle East in the 1960s and 1970s.
Anahid describes the Vintage Orientale show as follows: "We learned oriental dance as a 'suite of dances' with numerous rhythms and changes in mood." There was a great deal of overlapping in content but in general there were two divisions which were exhibited in two shows. Nobody was doing such specialties as tea tray, water glasses, sword or cane. Everyone had to play good finger cymbals. The first was what they called a "cabaret show" which was more Turkish in styling and the women wore fully hand beaded costumes with short fringe. Both shows often had a Turkish opening and there was always a belady in the middle featuring isolations and hip work. The typical six or seven part show lasted around twenty five minutes. It would begin with an opening dance which was a 2/4 or 4/4, followed by a rhumba or slow Turkish style çiftetelli for veil work, followed by a belady and then a slow çiftetelli for the floor work. Then there was a drum solo and a finale which was a 2/4. They could come back for an encore which was a Turkish kar_ilama (9/8). Anahid said that the skirt swirling was minimal during the kar_ilama but zills and playful flirtations with the audience were prominent. Sometimes they would do a kar_ilama right after the drum solo. They called the second performance, their "ethnic show" which was not "purely" ethnic but possessed a different mystique. These shows were more Arabic in styling and the dancers wore what they referred to as an "ethnic" costume with coins and a quasi-folkloric look. In general, the dancers were more covered and during their entrance number, they wore elaborate veil wraps. The format was the same but the music tended to be a little slower and was sometimes but not always more Arabic in style. The opening song was more likely to be a 2/4 or they might even open the show with a slow, dramatic belady. There was still a full song for veil, a song for floor work and even a finale to a decidedly non-Arabic Turkish 9/8.

Anahid put it very well when she said: "What I learned is a tradition that is fed from these different styles. Ultimately, I see the oriental dancer as being individualistic and as not necessarily adhering to one style. She is a conduit for developing her own expression as long as it is still within the genre. There was a blending in styles in the East coast of America. There was not as much of a sharp delineation in style then as there is today. I don't know if it is a good thing or a bad thing. It just is. What was and is important, after all, is whether you do a beautiful, exciting and wonderful show."
The Vintage Orientale dance show did not change much from the 1960s. In the 1970s and the 1980s, we did a four to six part show. We entered to a fast song. We then dance with a veil for an entire slow song. Then we performed any of several options: taksim, belady, Saudi, floor work and/or drum solo. We sometimes used props like cane, tea tray, sword, or water glasses. We did not do two songs in a row that were at the same tempo so we followed a slow song with a medium or fast song and vice versa. Some dancers did a "Sultan Act" which is a comedy act whereby the dancer invited a man up from the audience and she showed him some dance moves. We finished with a fast finale which was sometimes a karsilama. The lines between the different styles were blurred further - sometimes within the same step. Some of the rhythms we frequently used were the slow ciftitelli, rhumbas, and various 2/4 and 4/4 rhythms. There was an attitudinal difference too. We had fun in our shows and we really felt the music. There was a gusto about it. We were not intellectualizing the dance to the point of sterilizing the passion out of it. The dancers of the 1970s and 1980s were dancers as well as musicians (as good zills players) and sometimes comedians (via the Sultan Act).
We are not lucky enough to see this sort of show too much these days. There are less clubs and more restaurants and the establishments that have entertainment are more divided by ethnicity. Middle Eastern food was becoming more mainstream. Many Americans have joined the clientele and they could not tell one "foreign" dance style from another. If you compare how many Arabic countries there are in the world to Greece and Turkey, you can see that overall, there would be more Arabic establishments. The Egyptian style of dance dominated in most of the places and eventually this was true even in many of the Greek and Turkish establishments. The number of dancers who could still do Vintage Orientale style diminished as many of the dancers aged out of this profession to follow other pursuits. The immigrants who came to our shows in the old days are all in the 50 to 80 age range and they are not interested in partying the way they once did. Their full grown children are Americanized. Eventually, many patrons (most of whom are no longer right off the boat) accepted that the Arabic style as the "correct" or only style. And Vintage Orientale lost its foothold.
There are still some fine dancers in the United States who can do a Vintage Orientale show who are from the third and fourth generation of dancers in America. Most of them have also learned other forms as well so I do not want to "pigeon hole" them here. Many of these dancers have instructional or at least performance DVDs and most of them teach. This is not a complete list, but here are some shining examples. Anahid Sofian, Rayhana, Azmara and Elena Lentini are excellent examples of Vintage Oriental dancers in NY. Neenah is in Dallas and she does a hysterical "Sultan Act." She can flip quarters on her belly and pour wine from one shot glass into another by only using her stomach muscles. Kira is in Miami and she began her training with her mother Kahreen but she has continued her extensive studies with other teachers. Rhea and the "Daughters of Rhea" are wonderful examples of Vintage Orientale dancers. Rhea was from the California not the New York dance scene in the 1960s. She lives in Athens but comes to the United States every year. Her daughters are Melinda in Boston and Piper in Baltimore. Delilah from Washington State was a superb example of this style and she branched out and created her own style from there. Ansuya, from California, did the same thing and her mother was a dancer from my generation. Anaheed in California and Deniz in Ohio are quite good as well. Kajira Djoumahna started out with this style before she converted to Anerican Tribal Style. If you can get her to do a cabaret show, you are in for a treat. I still perform this style and there is an example of an entire show on my DVD entitled; "Artemis Dances." There are other dancers who I am sure I am forgetting or who I do not know about so please forgive me if I have omitted anyone.
HOW THE TURKISH STYLE OF DANCE WAS PRESERVED IN THE UNITED STATES
Turkey begat the Turkish girls who came to New York City. The Turkish girls begat many of the American dancers who pushed their way into the clubs here. Those women begat the Turkish style in America. Their generation was well versed in all of these things (the Turkish and the Arabic) but it was only "once removed" from the source. Anahid's generation was not yet influenced by the newer "Egyptian style" so she could continue the Vintage Oriental and the Turkish Oriental lineage fairly unchanged. Anahid knows that both dances are valid and that they have a right to be here. She never dealt with the issues that many other dancers struggled with in the third generation. They were wondering if they had a right to do the dances the way they had been taught, if it was correct, if it was acceptable. Anahid begat Eva Cernik who lives in Colorado. Dalia Carella got her start in NY (where she still lives). Yildiz and Pandora (who lived and worked in NY) begot me. Eva and Dalia and I begat thousands of dancers and we are still going strong.
The third generation of Turkish oriental dancers are all over the country. I do not imply that Eva, Dalia and I are the only ones. There are dancers from the second and third generations who still teach and perform in other areas. The Turkish style of Oriental dance was carried onto the American and now the international workshop circuit by Eva Cernik (a Czech American), Dalia Carella (an Italian American), Tayyar Akdeniz (a Turk) and me. The newest resource for learning Turkish Rromany and Oriental dance is Tayyar Akdeniz. He is a famous folk dancer who lived in New York City for many years and now lives in Turkey when he is not teaching or performing on tour. He sponsors the Folk Tours Music and Dance camps in the United States every year where students can learn authentic material from Egyptian, other Arabic, Turkish, Greek, Armenian, Rromany and American musicians and dancers. He also puts on the AlaTurka Music and Dance festival in Istanbul every year where dancers can go to the source and learn from the best Turkish dancers in Turkey. He grew up in a Rromany neighborhood in Turkey and has danced all his life. He now dedicates his life to preserving and sharing all Turkish dance to others.
Now, there is a new, fourth generation of dancers who have learned from us. They will carry the torch when we someday quiet our zills. Most of them are teaching. My favorite dancers from this fourth generation are: Alexia in New Jersey, Kajira Djoumahna in Hawaii, June Seaney in New York, Shibar in North Carolina, Miasia in Washington, DC and Kostana in Virginia. These women have studied with all of us. They have internalized the styling and diligently sought out information about the culture and history of Turkish Oriental and Rromany dance. This generation recognizes that it is no longer enough to learn technique, but one must also understand the ethnic, cultural and historic roots of a dance. Students must learn about a dance from a cultural perspective or their dancing will resemble the shallow puppetry of children playing "dress - up." These dancers are preserving the Turkish style without the new Pop Arabic and Egyptian influences. This next generation of dancers is mentoring an even newer, fifth generation of well trained artists. These are, in a sense, the granddaughters of my generation and the Turkish style of Oriental dance continues.
* Please note that I am using the politically correct term "Rroma" and ""Rromany" for "Gypsy" which is considered to be a pejorative term.

EditRegion3