Lucy is a professional middle eastern dancer (bellydancer) and entertainer in the Washington, D.C. area, whose expressive, elegant, yet playful style is ideal for birthday parties, weddings, corporate events, concert shows and bridal showers. She performs classic Egyptian raqs sharqi, modern Egyptian style (reflecting ballet and other influences). Lucy performs to all kinds of music, ranging from the classic Egyptian singer Om Kolthoum, to modern Arabic pop singers Shirin and Hakim.
Clip or Lucy dancing (low res)
Clip of Lucy dancing (high res)
Below are some guidelines and FAQs for her performances
* How much will a performance cost?
Performance fees are set on a per-appearance basis, and depend on a variety of factors - the length of performance, the location of the event, the kind of performance required, whether a costume change is requested, etc. However, to give you an idea, a 20 minute show will generally run about $175; additional fees apply if the event requires travel beyond the Beltway.
* What Lucy will need to know about your event?

a. Address and telephone number of the performance venue.
b. Approximate dimensions of dance area / stage. (The bigger the area, the better the performance.)
c. What the dance floor is made of.
d. Who the audience will be, and an approximate headcount of how many people will be attending.
e. What the event is (birthday party? wedding?)
f. If there is a special guest at the event.

* Payment

In order to confirm a booking, you will need to send Lucy a deposit of $75, either via Paypal or by check or money order sent to her by mail. This deposit is refundable up until two weeks before the event, at which point it is non-refundable unless Lucy has to cancel. Be assured that she will only do so in the event of extreme illness or family emergency. The remainder of the fee may be paid in advance by Paypal, or at the time of the performance with cash or corporate checks. Sorry, no personal checks accepted on the performance date.

* Performance Requirements

a. Clean, dry dance surface clear of food, liquids, etc.
b. Private dressing area (restroom will suffice).
c. Access to restroom and running water.
d. Complete directions for and map to performance location.
e. Name and phone number of contact person, if different than person booking the event.
f. Payment, in full, at the time the dancer arrives at the venue.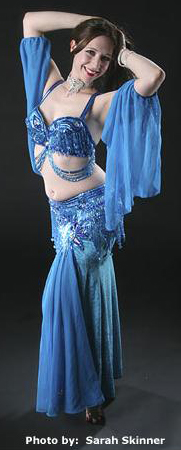 * Do you perform Turkish/Rom/Lebanese styles? How about dancing with a candelabra or sword on your head?

Lucy does not perform these forms of bellydance; however, she will be happy to direct you to other dancers who are experts in these styles.

* Do you travel to private parties alone?

Lucy travels with an assistant to help with setting up the CD player, costume changes, etc. An escort also ensures her safety.

* Will you perform for my bachelor party/kegger/fraternity party?

Sorry, but no. Lucy's style is family-friendly, and she does not perform for any all-male audiences.

Lucy is delighted to perform for commitment ceremonies, showers and alternative weddings!