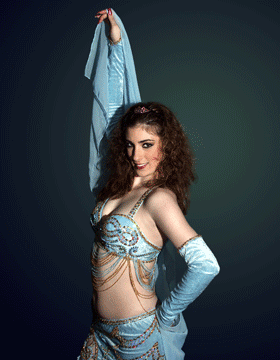 Born and raised in the US, I come from Moroccan heritage. While my efforts are now focused in the area of belly dancing, I also have experience with ballet, jazz, tap, and hip hop. At the age of 13, I started performing at private shows such as birthday parties, company picnics, holiday parties, etc. Within the last couple of years, I have been dancing in resturants and clubs such as Pars, Shalimar, Ben N' Mo, Marco Polo (formerly known as Chelsey's), Tele Aviv Cafe, Taste of Morocco, Casablanca and a few others.
I have also danced for a few well-known shows in the area such as the Morocco & Tarik Show, Beata & Horacio Workshop Friday Show, as well as celebrities such as Hakim, and the Ambassador of Greece, and others. In January 2004, I started teaching at a Community Center in Maryland and have taught belly dancing to over fifty students there. Even though I have only been dancing and teaching in this area for a relatively short time, I have become one of the most well-known belly dancers in the Washington DC metropolitan area.
For anyone that would like to have Sultana perform
at their next engagment
her price starts at $175.00 and up.