Leila of Cairo
Egypt's New Star of Raqs Sharqi – Rises from the West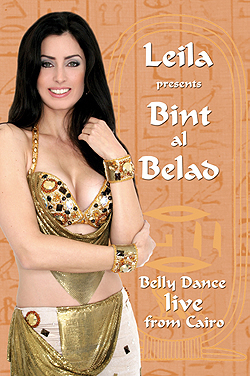 She's tall and slender, dark and beautiful, and has almond eyes to die for. She is the epitome of Arabian beauty, but she is not from the Middle East. Leila is an American, and probably more of an American than most of us. Part of her lineage is Native American, and she grew up on a reservation in central Washington State. Yet after four years in Egypt, Leila has now become one of Cairo's brightest dance stars. Night after night she shines in some of the city's most exclusive nightclubs, restaurants and weddings. She is in fact a recognizable personality throughout the Middle East. Her work on Arabic television brings her into homes all over the region. From high profile video clips with superstar singers to live televised stage shows, her dancing can be seen everywhere. Her latest clip, with singer Ali Hagar, won three prizes in the Cinema Magazine Film Festival at Sharm el Sheik. She is also on clips with Samira Saieed, Hishem Abaz, Moustafa Amr, Hakim, Khalid Seleem, and Ahmed Fahti, to name a few.
Leila is well-known in Egypt for her acting and modeling as well. Occasionally, her face beams down from the giant billboards that tower over Cairo's crowded streets. On television she trades lines with top Arabic actors in sit-coms and commercials. And her most recent role for the cinema, in the blockbuster film "Abu Araby Wasal," won her rave reviews.
She is also a music producer. Her first Oriental Dance CD "Helwa," has sold well throughout Europe and North America, and will soon have a companion. When Leila comes to the US in March of 2007 she will bring the new addition with her. She has also produced a performance DVD of her show "Bint al Belad"
Yet I bet many of you have never heard of Leila. If you attended the Raqia Hassan workshop in Houston in 2004, the Little Egypt workshop with Aida Noor and Magdy el-Leisy in Los Angeles in 2006 or if you were at the Ahlan wa Sahlan festivals, you might have seen her. Otherwise you could have read one of her insightful articles on Gilded Serpent. Her gentle but firm way of telling it like it is 'over there' has won her many fans on the site.
Leila's own web site, www.leilainegypt.com has a great deal of information about her. But what it doesn't mention is how she got her start in the business. For an unknown dancer, it is hard to get your foot in the door in Egypt. But it takes enormous stamina and perseverance for a foreigner to do it. (Ever heard the expression "bringing coals to Newcastle," or more to the point, "selling sand in the desert"?) It takes someone with thick skin, street smarts and will power, not to mention talent, mental strength and intestinal fortitude, to succeed.
Leila's entry into the world of dance was somewhat unconventional. According to her, the public schools on the Indian reservation where she grew up excelled only in their dance programs. She particularly loved the folkloric classes. Leila left school early to pursue a modeling career in New York, and found enough work there to pay her way through university. But in the end, she grew sick of the City and moved back to the West Coast, to Seattle.
It was during a trip to Alexandria, for a friend's wedding, that Leila fell in love with belly dancing. When she returned home, she began to study videos of Egyptian dancers to learn the movements. Her family's musical gifts helped her understand the Middle Eastern rhythms and melodies. Eventually, she took workshops with visiting Egyptian teachers, joined a folkloric troupe and began performing in local nightclubs and restaurants – often with live bands. After only four years as a professional, Leila was offered an opportunity to work in Egypt, and she took it.
Once in Cairo, things did not turn out to be cut and dry. She found work within a week, but soon had to stop when another dancer reported her to the police. Apparently Leila was working illegaly. She didn't have a dancer's visa. It took 3 months for her papers to come through. Yet, she stuck it out. She didn't give up. She waited and kept hope. Luckily, her other sources of income, modeling and acting, were professions governed by different laws and visa requirements. She could at least eat and pay the rent. She took dance classes, learned Arabic and carefully studied what Egyptian audiences expected from their entertainers.
Leila finally got her papers and went back to work - one week before the Egyptian government stopped all foreigners from applying for new papers. She was the last one to be licensed. (The government has since repealed the law, but has imposed strict regulations on any new foreign dancers applying for work visas.)
Leila's dance career has been helped by her print and screen work. She was able to reinvest additional funds into choreographies and costumes. And you can't beat the "star recognition" factor! Now she performs three shows per night, in addition to weddings, and her biggest concern is remaining healthy. For a more complete biography of Leila, please visit Lynette's interview of her for the Gilded Serpent, February 2006.
To date Leila has produced three belly dance CDs with her band. The first, "Helwa," has sold well throughout Europe and North America. The second "Sukara" was released during her March 2007 tour. The third, Om al-Dunya, is the music from her 2009 show. These albums have cutting edge dance music from today's Cairo performance venues. All include music for a complete belly dance show and are available for sale on Serpentine.org
1. Leila - entrance
2. Ganal Howa
3. Saidi Cocktail
4. Ana Elbilik Mayel
5. Min Hobi fik ya Ghari
6. Asharlee bil Manadeel
7. Darit al Ayam
8. Beladi Helwa
9. Tabla Solo

1. Leila – entrance music
2. Ansak – an Om Kalthoum classic
3.Sha'abi - Yagibni Kulak
4. Saidi Cocktail
5. Nubian
6. Beladi tableau - Ghazal al-Darb al-Ahmar
7. Ma'aood – Abdel Halim Hafez
Seven costume changes, a live band, 2 singers and folkloric dancers
DVD for sale

1. Leila Sukara – entrance music
2. Esmaooni – a classic Warda piece
3. Salamit Om Hassan – Sha'abi, Ahmad Adawia
4. Beledi Alwad – traditional beladi
5. Ansak – an Om Kalthoum classic
6. Saidi Cocktail
7. Min Hob Fik ya Ghari with Taht il Shabak - folklore
8. Ma'aood – Abdel Halim Hafez
CD for sale
1. Overture Leila
2. Mergence
3. Mally wanna Mally
4. Zay al-Howa
5. Lebanese tableau - Al Ein Mounayity + Dari ya Dar
6. Pussy Cat
7. Solo Tabla
8. Beladi Vibe
9. Sha'abi cocktail - Bint Sultane + Shirtit Einu Itganin
10. Helwa Dire Shabaka
11. Zay al-Assal

WORKSHOPS WITH LEILA
28 - 31 AUGUST 2010 IN WASHINGTON DC

Sat 28 Aug: Modern Egyptian Orientale - The Latest Moves from Cairo (3 hours)
Sun 29 Aug: Adawiya - The Father of Sha'abi (3 hours)
Sunday 29 Aug: show at Samira's monthly Alf Leyla Hafla
Mon 30 Aug: Questions and Answers from the Trenches - Life in Cairo as a Belly Dancer (2 hour "lecture")
Tues 31 Aug: Sami Ali - Revisiting Sahar Hamdi's Signature Songs. (2 hours)

EditRegion3